Stereo Handheld Digital Audio Recorder and USB Audio Interface
Record clean and clear audio anywhere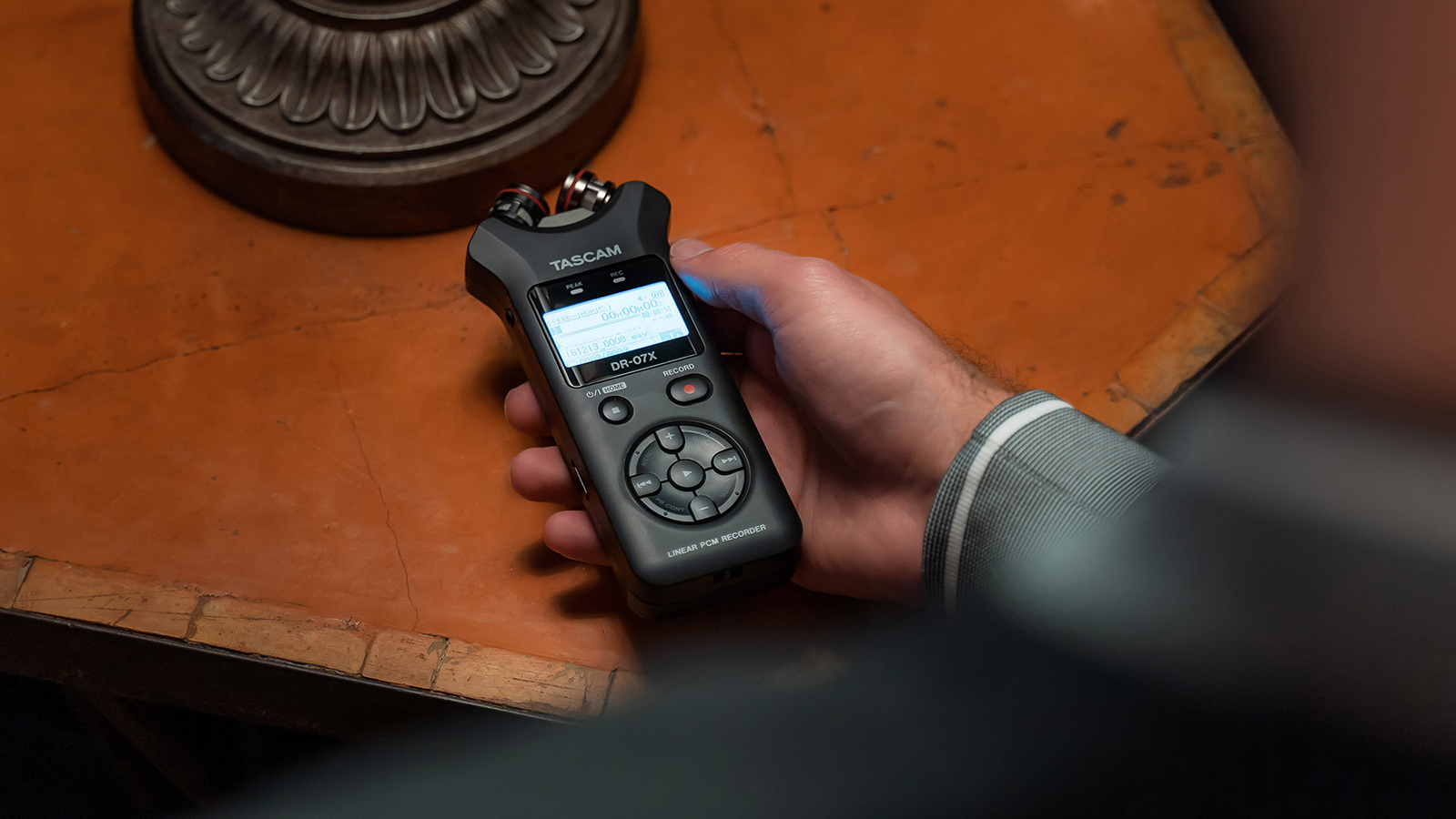 DR-07X bring high-quality recording to an easy-to-use portable powerhouse with a size and price that anyone can handle.  A pair of condenser microphones handles small to loud sound up to 125dB SPL with the sensitivity to capture every detail. 
Simple to operate.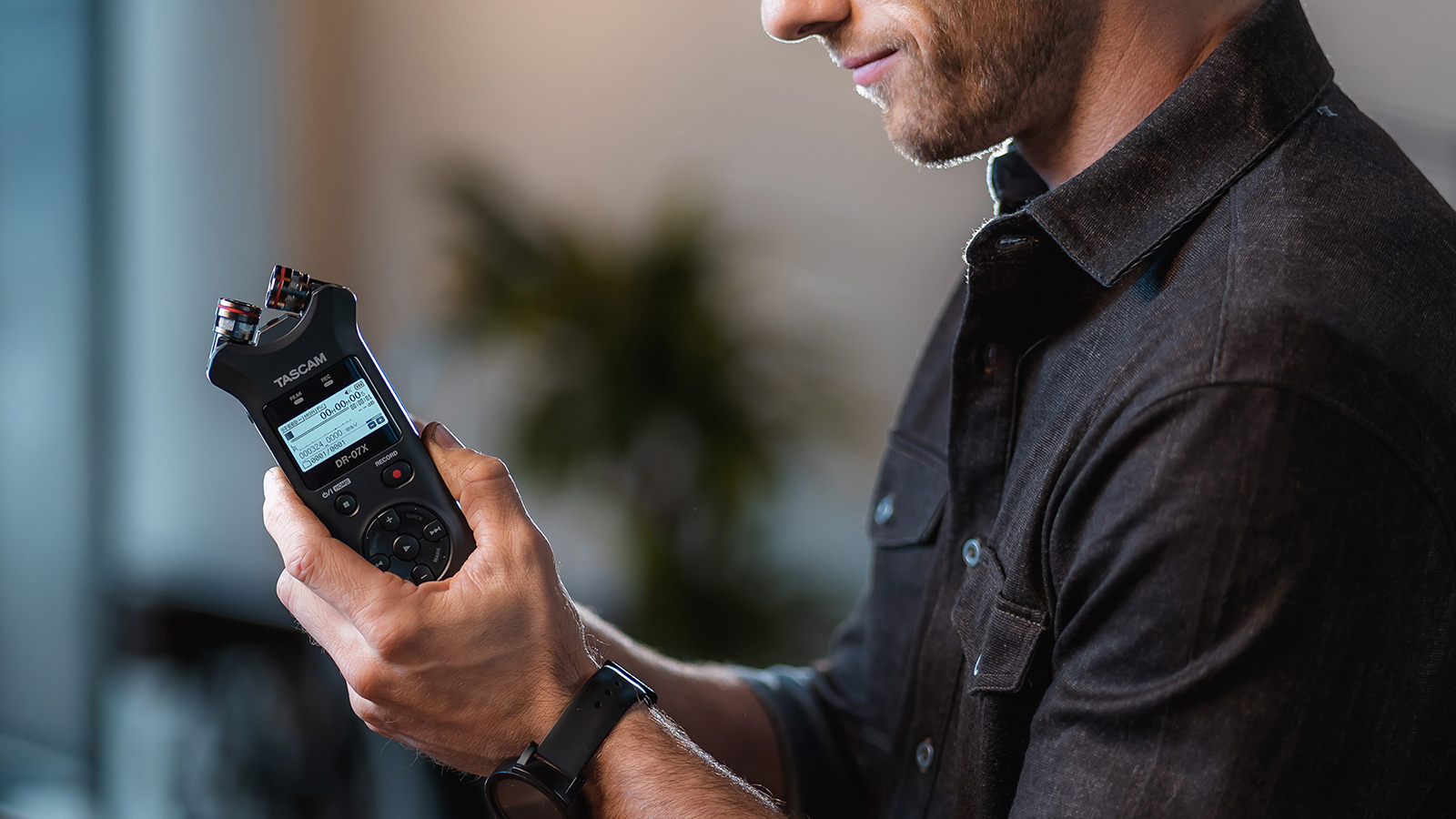 The layout of the DR-07X has been revamped to be quick and easy to work with one thumb. Operations like recording, adjusting levels, deleting bad takes and adding markers are just a button press away.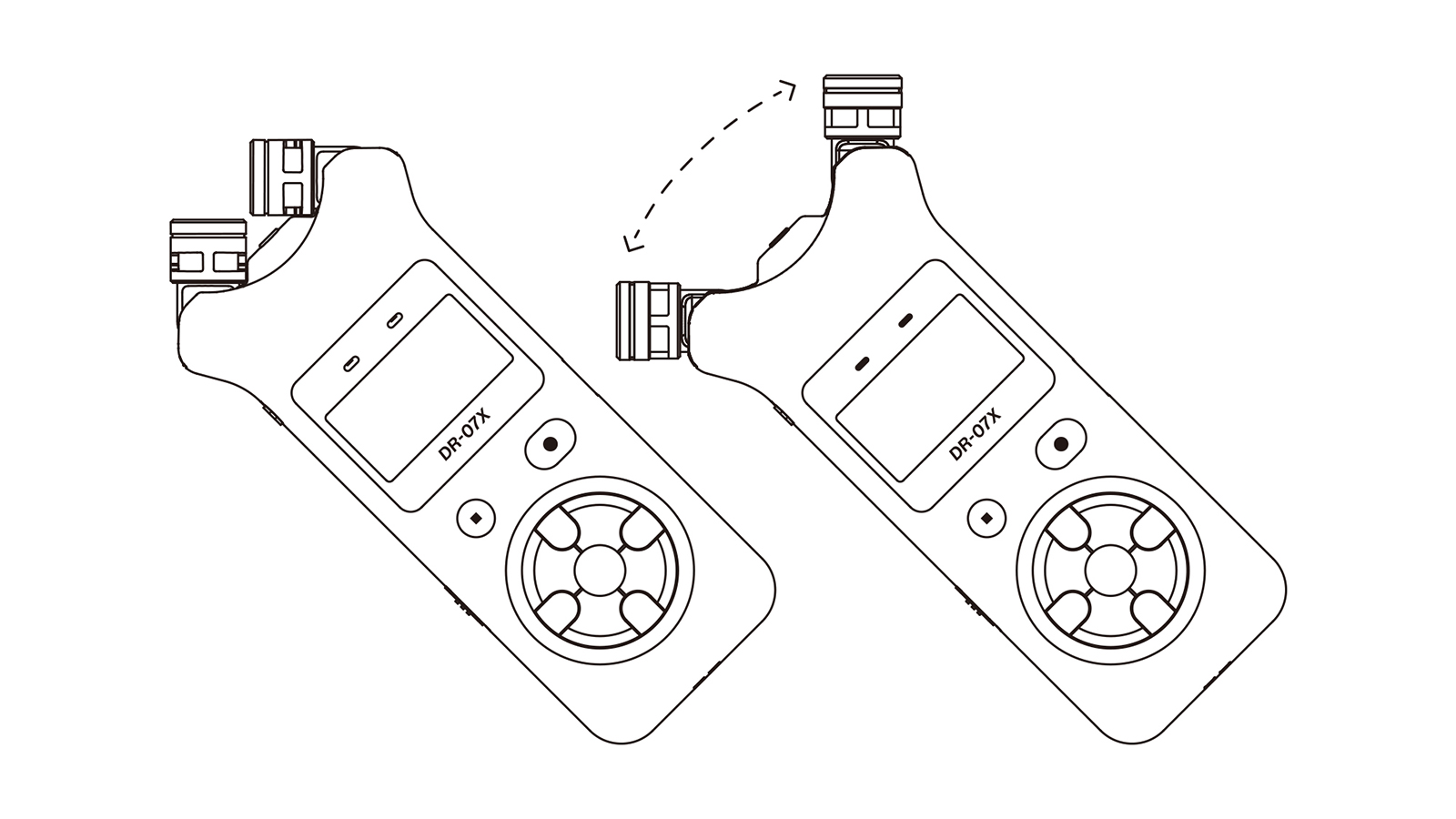 Adjustable microphone for preferred stereo image
DR-07X is equipped with adjustable unidirectional microphones that can be used for recording in both the A-B position and X-Y position. Advanced microphone placing allows for a wide stereo sound recording or a clear stereo sound recording with less phase difference, making it possible to achieve professional quality recordings.
What is A-B and X-Y stereo?
For example, even if you want to record acoustic guitar duo one day and large choir or band concert on the other day, you can change microphone configuration and set it for more suitable stereo capturing. A-B configuration is for more far image that capture wider horizon. On the other hand X-Y can prevent missing sweet center spot, so it is more suitable for tight image.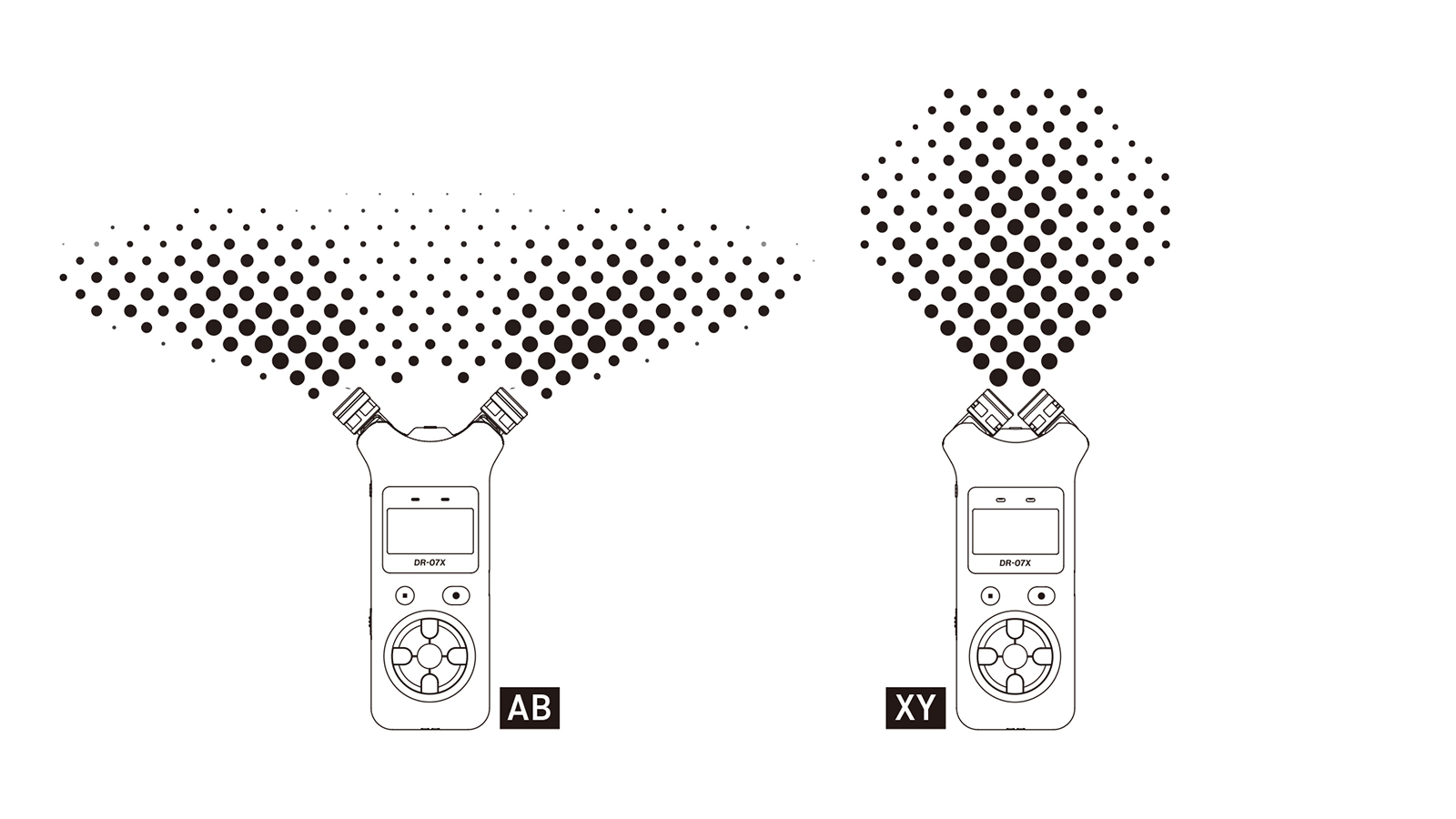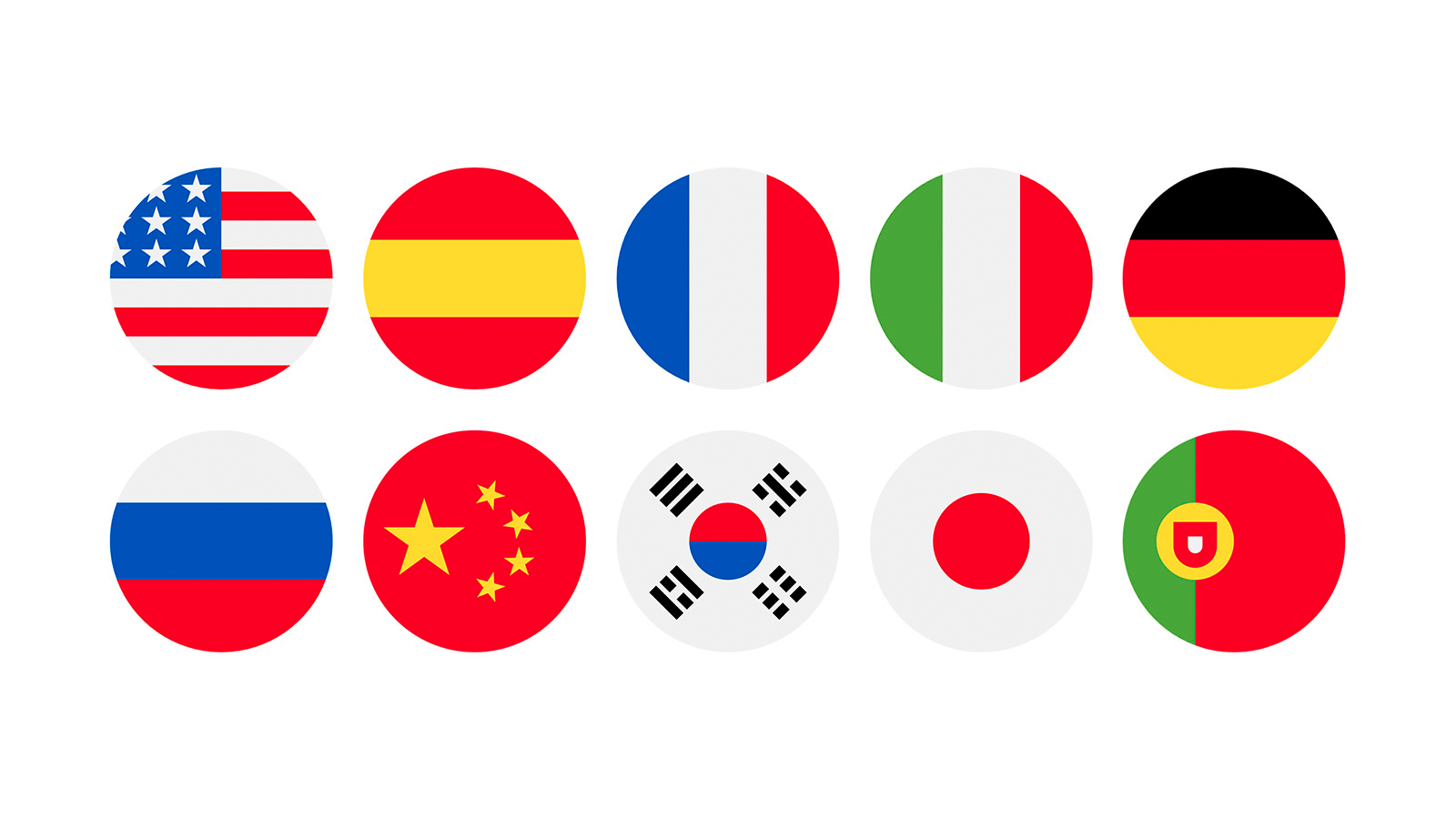 Choose your language
Menu display of dr-07x supports 10 languages:
English/ Spanish/ French/ Italian/ German/ Russian/ Chinese/ Korean/ Japanese/ Portuguese
Extended battery life
dr-07x uses only two AA batteries and has ultra-long battery capability. When using built-in microphones, recording lasts 17.5 hours when recording with standard 2ch WAV, 44.1kHz/ 16bit format using alkaline batteries.
Also dr-07x can be powered by a USB mobile battery as well for super long extended use.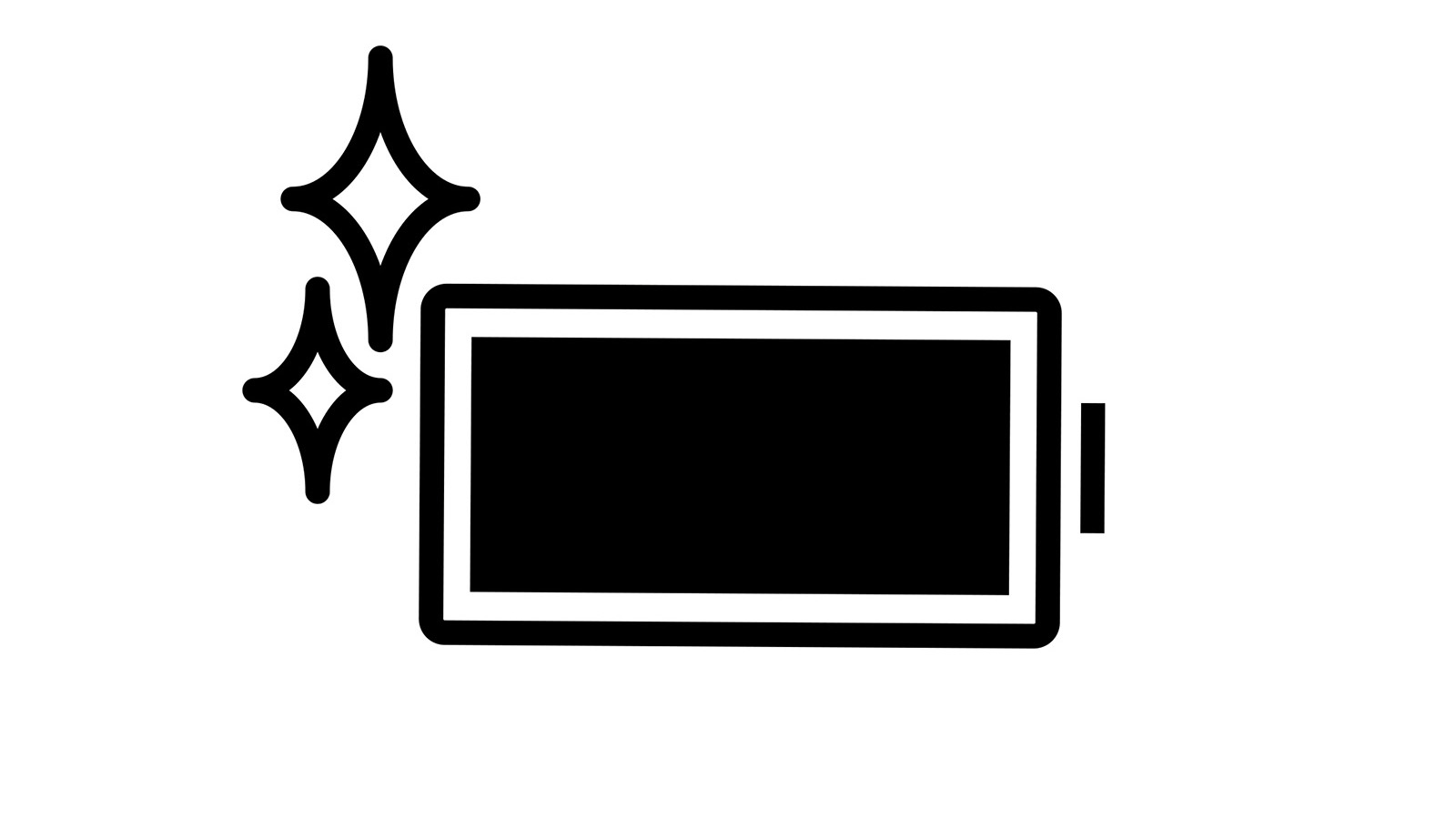 Turning your room into a studio – in a minute.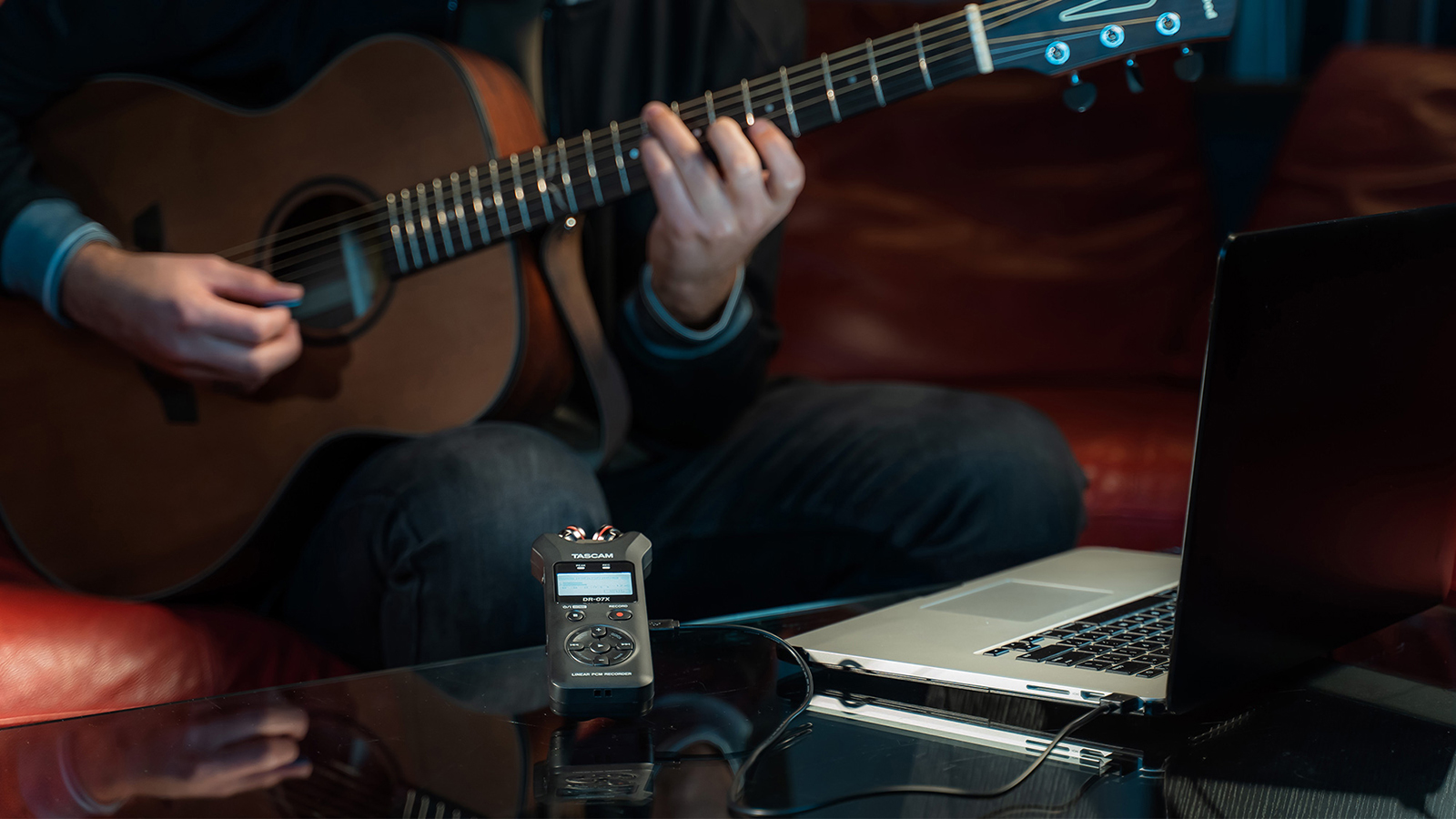 Connecting to a PC with USB Audio interface mode, DR-07X becomes a strong yet easy gear for voiceover work, live streaming and songwriting with studio-quality audio. Built-in microphones work as just as USB microphones without complicated settings.
Back up your transcription work: record and play with one unit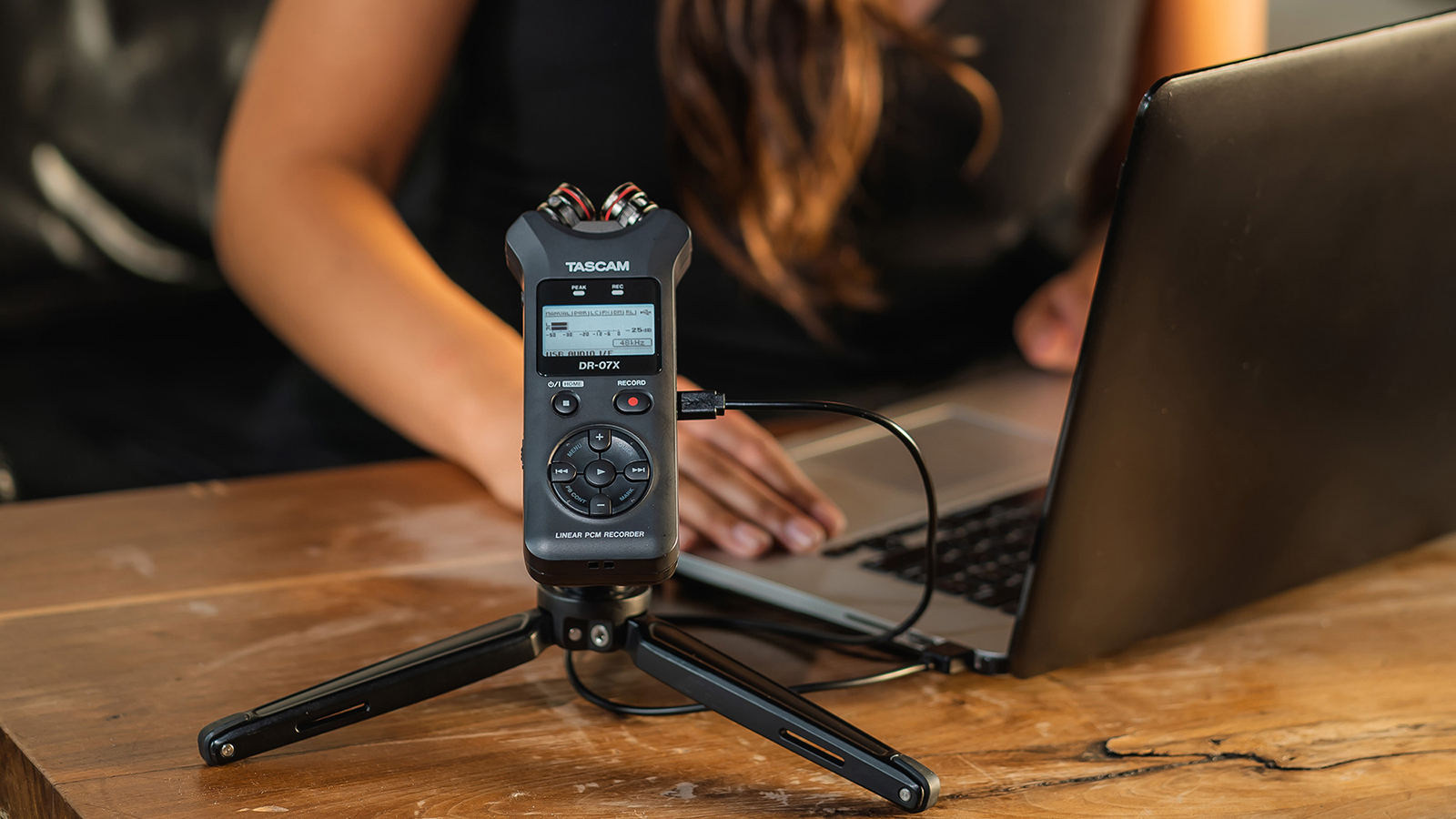 Writing down what you hear – Easier said than done, but it is actually easy with DR-07X. In addition to its capability to capture crisp voice recording, DR-07X can help you with its Jump back function, variable Speed function and equalizer preset for human voice.
Tools for music practicing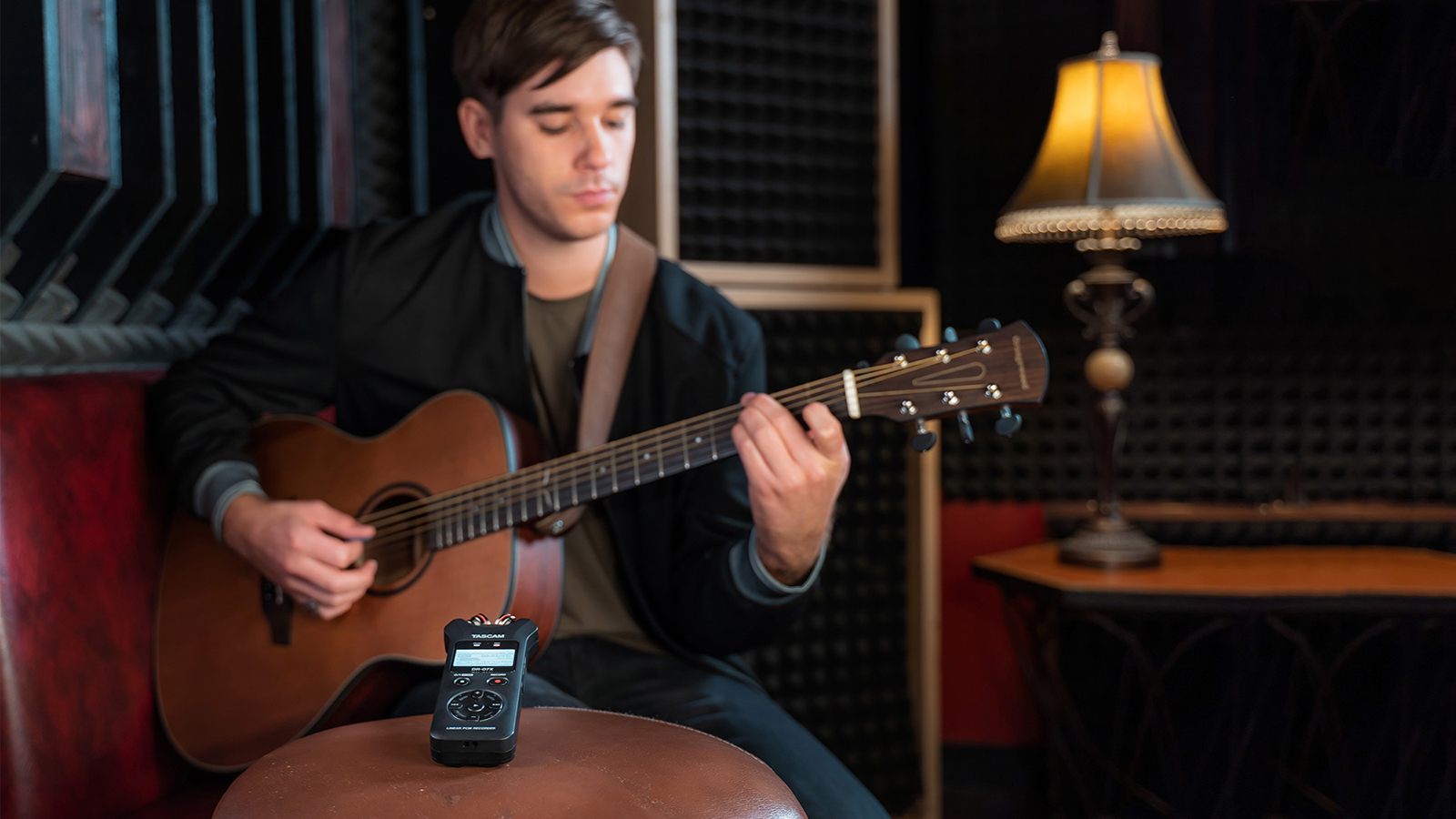 In addition to its excellent recording capability, DR-07X is an excellent musical instrument practice tool. An internal Reverb effect works both on playback and recording, allowing you to rehearse your performance with spacious concert hall reverb. A chromatic tuner is also available.
Never miss the timing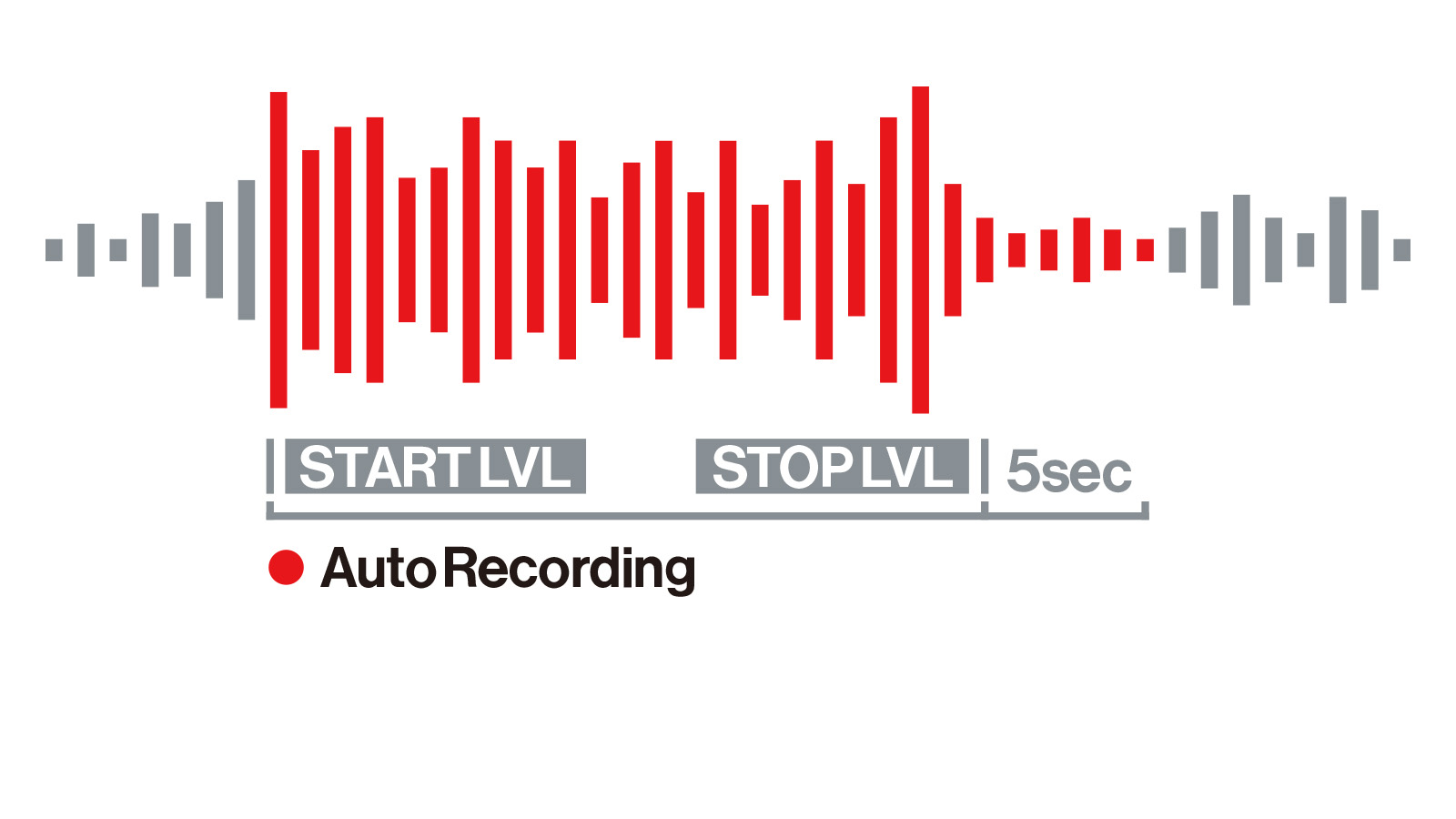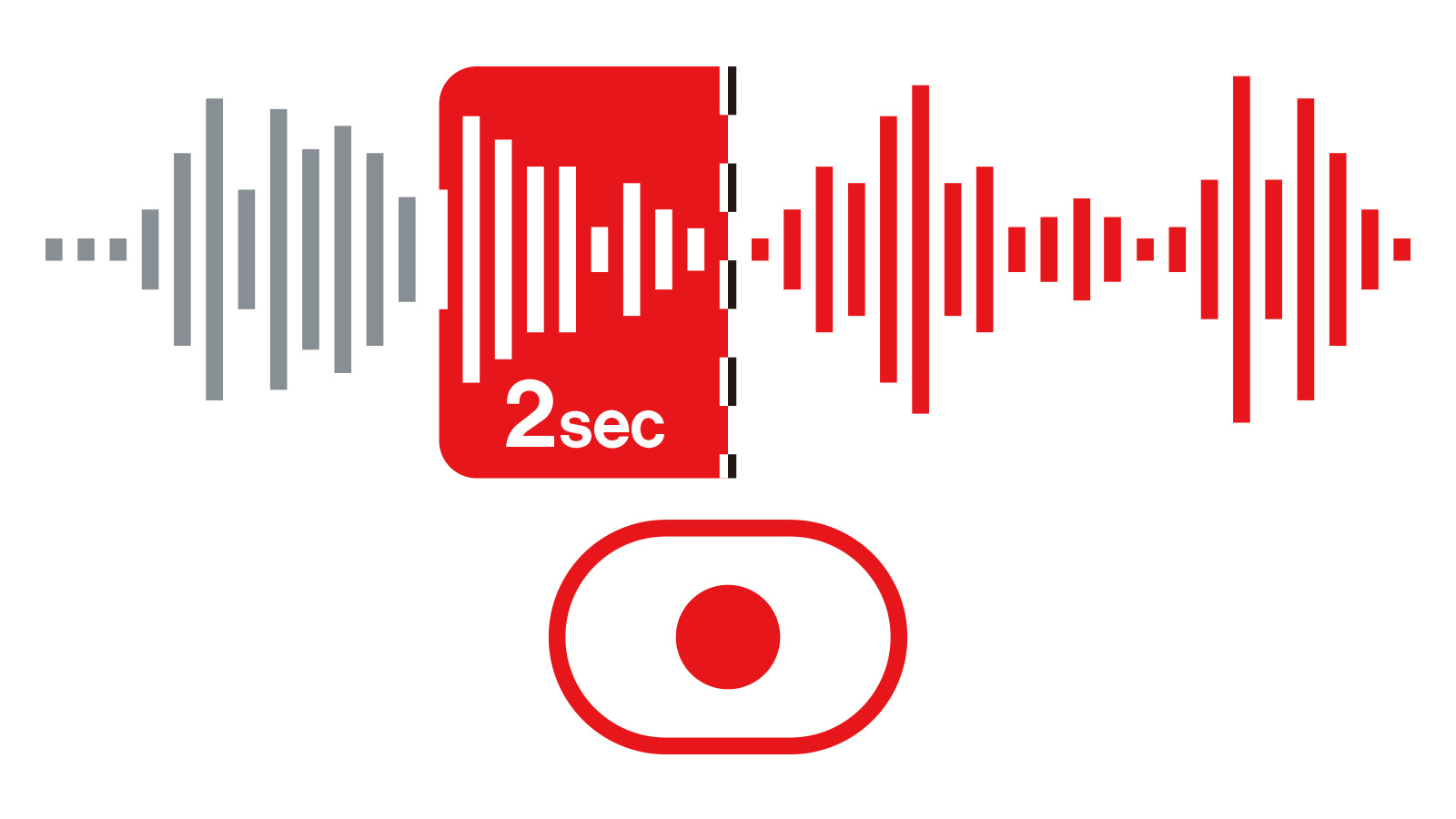 Auto recording function can detect the sound input signal level and automatically start recording. Also, Pre-recording function with up to 2 seconds pre-record provides fail-safe protection even when you are a bit late to hit the record button
Still safe if it is louder than you thought.
Peak Reduction works in rehearsal mode or in record. Even if the sound or performance is louder than the sound check you're safe. Combined with Auto level and Limiter for preventing distortion, you never have to worry.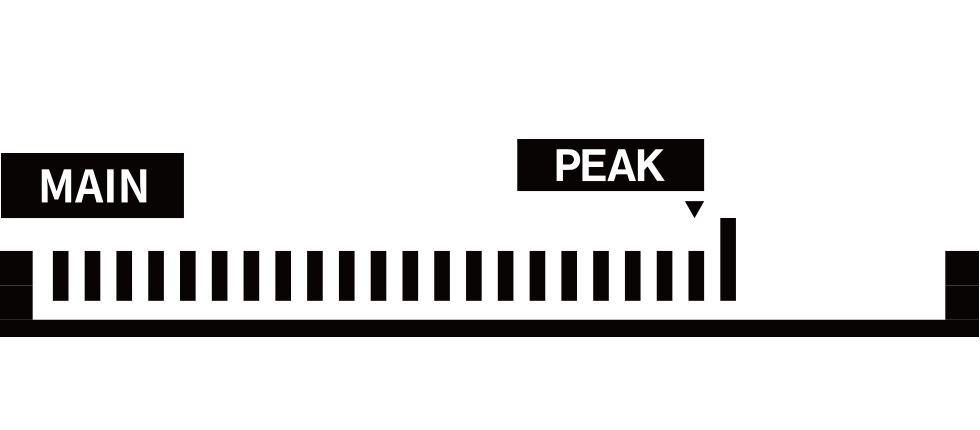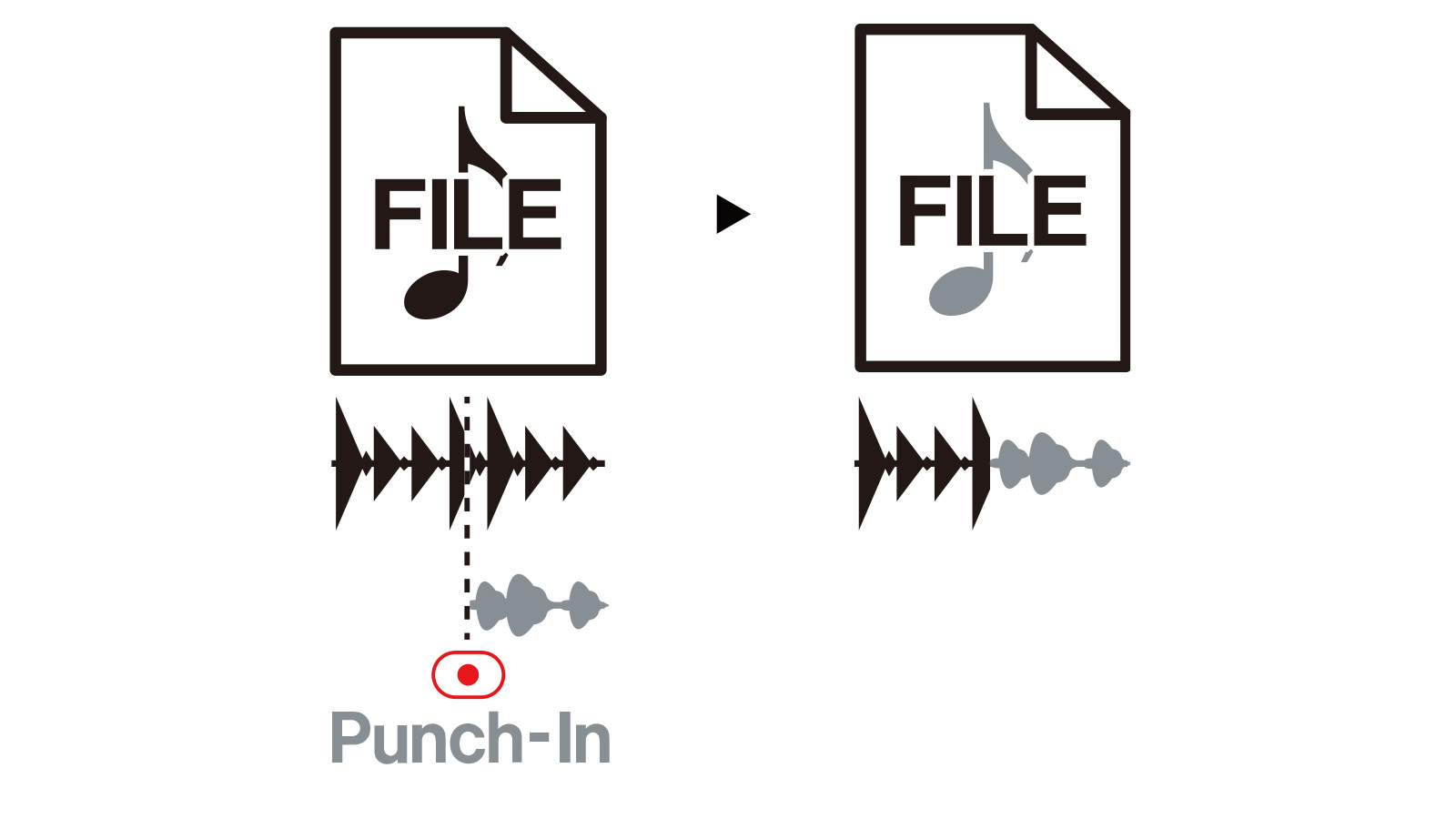 No need to go through "take 2" all over again
If you don't like the last part of a phrase you just recorded with your guitar, or if you change your mind and want to rephrase narration, the "Overwrite mode" is exactly what you need. Overwrite mode allows punch-in recording from a desired point. It is destructive editing with one level of undo.
Nondestructive Overdubbing
The overdubbing function allows for Overdub Recording while playing a previously recorded file. This allows you to record other parts such as a guitar solo over a recording previously made such as at a rehearsal studio. Overdubbing creates a new file, leaving the original file unaffected, making it easy to re-record.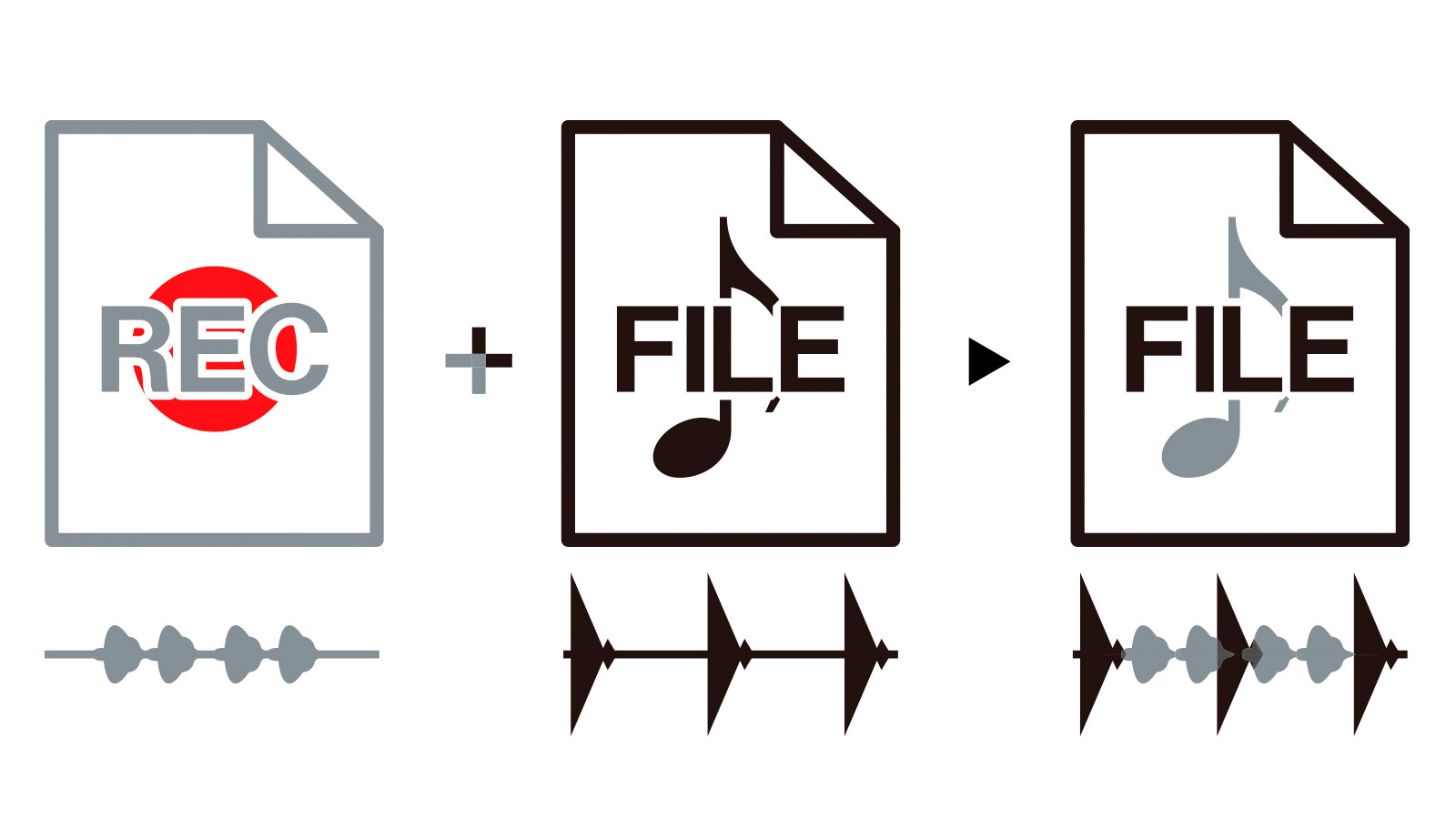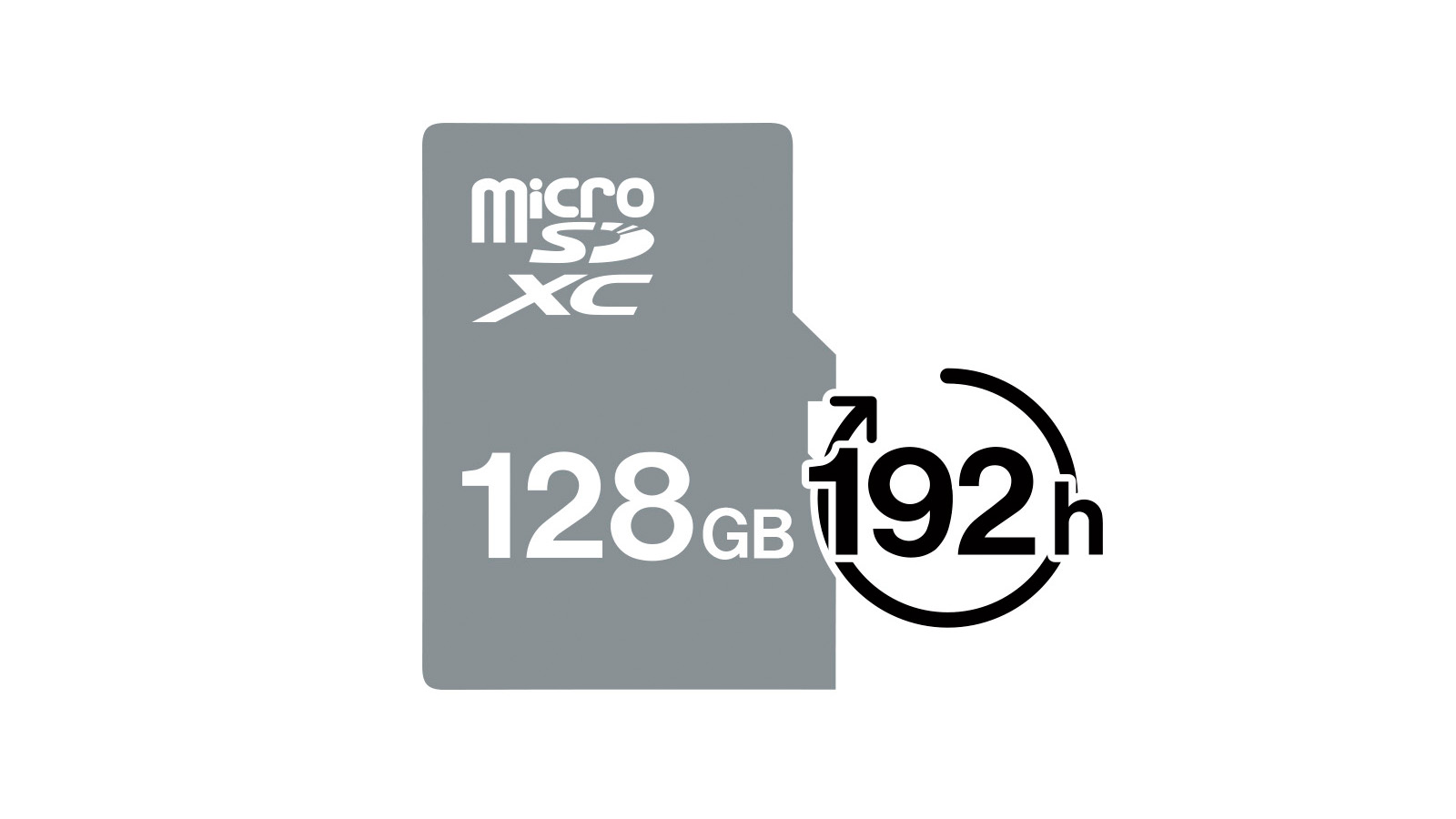 192 Hours. This is how long you can record CD-quality sound with one single microSDXC card.
dr-07x supports a microSDXC card, which can record longer with larger data capacity. If you record a stereo file at 44.1kHz/ 16bit CD quality, a128GB card holds 192 hours maximum. In MP3/ 320kbps mode, it can record up to 896 hours.
Features at a glance
High-quality unidirectional stereo condenser microphones that can record in both A-B and X-Y positions according to the situation
Support multiple languages for menu (ENG/FRA/DEU/ITA/ESP/RUS/PRT/JPN/CHI/KOR)
Overwrite function for Punch-In recording with one level of Undo
Functions as a 2in/ 2out USB Audio Interface for Mac, PC or iOS recording
Dictation mode designed for human voice recording and transcription
Reverb effect for vocal and instrument resonance
Auto recording function that can detect the sound input signal level and automatically start recording
Proven high sound pressure design for capturing loud sounds of up to 125dB SPL
Peak reduction function
Self timer recording function
Seamless gain control
Three low cut filter levels (40/80/120Hz)
Speed change (VSA) function for adjusting the speed from 0.5 to 2.0 times (in 0.1 increments)
Level align feature that prevents uneven volume levels
Equalizer setting for adjusting playback sound quality
Divide/delete functions
Loop/repeat playback function
Resume function that retains the last stop position and starts playback from that position when power is turned back ON
Jump back and play (1 to 10 sec in 1 sec increments, 10 sec, 20 sec, 30 sec)
QUICK menu button for easy access to various functions
High-quality 96kHz/24-bit WAV/BWF linear PCM recording and long recordings as MP3 files possible
microSD/microSDHC/microSDXC (up to 128GB) cards can be used as recording media
Mark function that can set up to 99 points for a single track Mark information can be utilized by BWF compatible software
Audio files created on computers can be played (Only in formats compatible with this product)
Built-in monaural speaker with an output of 0.3W
Pre-recording buffer that can record up to 2 seconds prior to starting recording
When a predetermined maximum file size is reached, a new file is created to continue recording
Track increment creates new files at arbitrary locations during recording
File name format can be set to use a user-defined word or the date
The first six characters of the file name for recording can be set freely
Playlist function
A chromatic tuner is equipped which is helpful for practicing musical instruments
Stereo mini jack for external stereo microphones (provides plug-in power) / External line input
Stereo mini line output / Headphone output connector
128×64 pixel graphic LCD with backlight
High-speed file transfer to a computer is possible using USB 2.0
Powered by 2 AA batteries, USB bus power, or optional AC adapter (PS-P520E)
Tripod attachment screw-hole built in to the unit
Spec description
Recording Media
microSD card (64MB to 3GB), microSDHC card (4GB to 32GB), microSDXC card (up to 128GB)
File System
FAT16/32, exFAT
Recording File Format
 
WAV / BWF
 
Sampling Frequency
44.1k / 48k / 96k Hz
Bit-depth
16 / 24-bit
MP3
 
Sampling Frequency
44.1k / 48k Hz
Bit-rate for recording
32k / 64k / 96k / 128k / 192k / 256k / 320k bps
Playback Bit-rate
32k to 320k bps, VBR, ID3TAG Ver. 2.4
Number of Channels
2-channel (Stereo) / 1-channel (Mono)
Playback speed control
0.5 to 2.0 times (in 0.1 increments) * 44.1k/48kHz only
Built-in Microphone
Unidirectional, Stereo (switchable between A-B and X-Y positions)
MIC/EXT IN
 
Connector
1/8" (3.5mm) Stereo Mini jack (Unbalanced, Plug-in Power)
Nominal Input Level
-20dBV
Maximum Input Level
-4dBV
Input Impedance
18kΩ or more (PLUG IN PWR: OFF)
2kΩ or more (PLUG IN PWR: ON)
PHONES/LINE OUT
 
Connector
1/8" (3.5mm) Stereo Mini jack (Unbalanced)
for LINE connection
 
Nominal Output Level
-14dBV (10kΩ load)
Maximum Output Level
+2dBV (10kΩ load)
Output Impedance
12Ω
for Headphones connection
 
Maximum Output Power
20mW + 20mW (32Ω load)
USB
 
Connector
USB Micro B-type
Format
USB2.0 HIGH-SPEED
Built-in Speaker
0.3W, Mono
Low-cut Filter
40 / 80 / 120Hz
Chromatic Tuner
C1 to B6, A4 = 435Hz to 445Hz (in 1Hz increments)
Effector
6 presets (Hall 1, Hall 2, Room, Studio, Plate 1, Plate 2)
Tripod attachment screw-hole
1/4" Tripod attachment screw-hole
Power
2 AA Batteries, USB bus power, AC 100 to 240V (optional AC Adapter)
Power Consumption
1.7 W (Max)
Battery Operation Time
(Recording)
 
Alkaline (EVOLTA)
approx. 17.5 hours (2ch WAV, 44.1kHz, 16-bit, using Built-in Microphone, JEITA)
Ni-MH (eneloop)
approx. 15.5 hours (2ch WAV, 44.1kHz, 16-bit, using Built-in Microphone, JEITA)
Dimensions

 

(W×H×D)
68 × 158 × 26 mm
Weight
127 g